CAREER MANAGEMENT
Our bespoke career management and outplacement programmes, which are modular in nature, adopt realistic timescales and manage the relationship to ensure the client receives the appropriate level of service and that programmes are neither too short, nor too long.
In the case of outplacement this can include working with the individual until they are settled into a new position. Some of the most common issues dealt with include:
* Personal issues associated with job loss and unemployment
* Advice on future career direction.
* Help in identifying transferable skills.
* Exploring career options and any retraining that may be required
* Assistance and advice on preparing a CV, writing letters, completing application forms etc.
* Planning a professional job search
* Using all the routes into the job market.
* Individual advice on interview techniques
* Interview role-play and feedback
* Negotiating the job offer
* Ongoing support and motivation
We can set up, on customers premises , fully equipped 'job shops' to provide a focus for support, and give clients a base for job hunting and for the provision of 1-1 counselling. Unadvertised vacancies from local employers are displayed on job boards in the job shop for clients to apply directly to.
WORKSHOPS - delivered over 1, 2 or 3 days covering the full range of subjects required to conduct a professional Job Search. All supporting literature and course handouts are provided including a comprehensive manual focused on job hunting in the 21st Century.
Alternatively we can work with clients on an individual basis, exploring needs, motivation, desires, skills and thought processes to assist the individual in making real, lasting change.
We can then support the client in setting appropriate goals and methods of assessing progress to achieve their aspirations and fulfil their needs.

Service Summary
* Taking Stock
* Self Assessment
* Campaign Management
* CV Preparation
* Job Search Campaign
* Interview Techniques
* Preparing a CV
* Interview role-play and feedback
* Negotiating the job offer
* Ongoing support and motivation
* Provision of Outplacement Manuals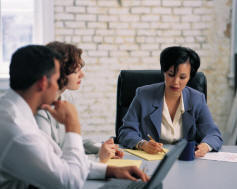 Fees
Contact Sue Quantock